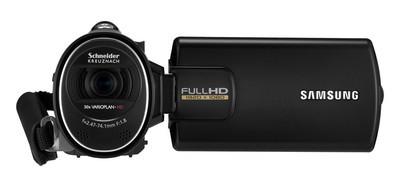 I found the Samsung HMX-300 camcorder to be a bit unstable during some actions, it failed to initialize 32GB SDHC card properly in the beginning and could hang indefinitely after USB operation. I decided to look for a firmware update.
The support page with firmware download does not have an instruction for an upgrade in English and I was not able to update the firmware – the camcorded did not ask me to do this even when I copied the file (zip or unzipped) to the card. Then I found the proper article on korean Samsung web site So, here's what needs to be done for manual firmware upgrade:
Download the firmware archive file (h300_FW_1204131.zip) and unzip the contents (single h300_firmware.bin file) to the root of the SD card.

If the battery charge level is less than 3 points, the camcorder will not attempt to update the firmware.

Turn on the camera with SD card containing the firmware update, a dialog box will appear asking you whether you want to upgrade.

After upgrade is completed the camcorder will be automatically turned off and the firmware file will be deleted from the SD card.
My mistake was that I tried the update when the battery was not full (3 points is the 100% charged battery). After the battery was completely charged the upgrade went through perfectly.